Literacy
The Library
Here at Leatherhead Trinity we are lucky to have a fully functioning library. Each class visits every week to borrow books to enjoy at home. It is also full of books relating to the topics we cover in school. The space is used for lessons, interventions and a space to enjoy reading!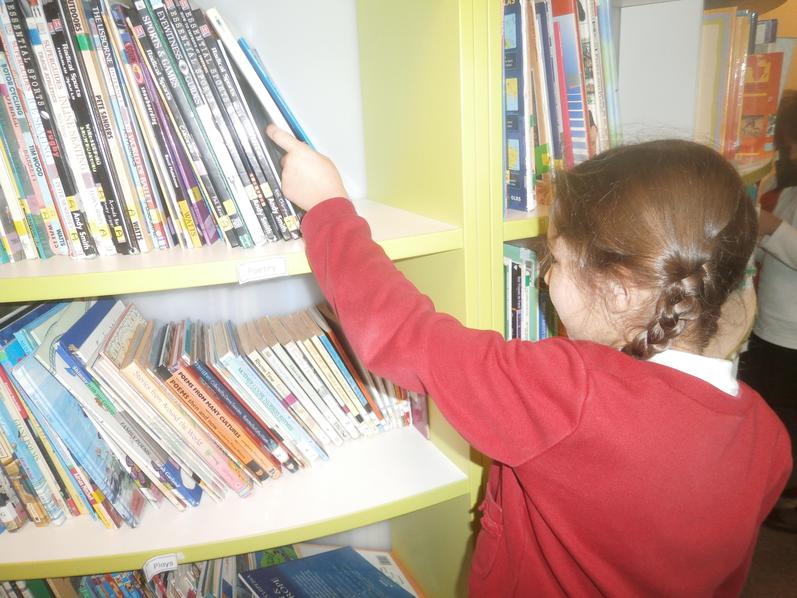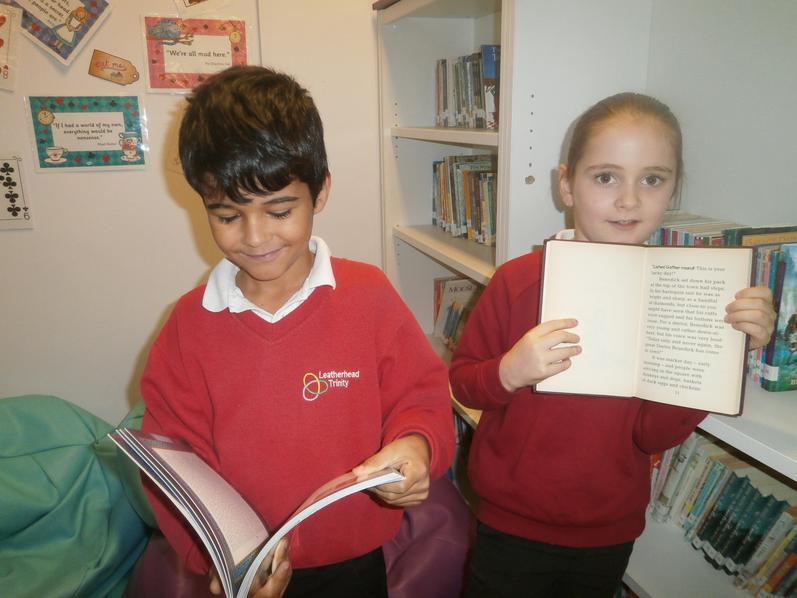 Writing
At Leatherhead Trinity, the children are given opportunities to discuss and plan a range of genres in writing. For example, pupils are encouraged to write stories, poems and reports and present their work in front of their class and in assemblies. Challenging guided reading texts are used in every class to broaden pupils' perspectives and extend their vocabulary choice. We encourage pupils to write for a variety of purposes and different audiences. Spellings are an important aspect of the writing process where pupils learn the appropriate spelling rules for their year group. Pupils are given appropriate practice in developing a good cursive style of handwriting and are encouraged to present their work neatly and carefully. Throughout the process of writing, teachers will regularly model features and clearly set high expectations. We as a school recognise the value of modelling as it makes expectations very clear to children and provides them with a structure to support their own writing.
Read Write Inc is our phonics programme for Key Stage 1 and is used for some children further up the school if there is the need. It is a very successful programme that uses resources aimed at the child's exact reading level. Read Write Inc lessons also include spelling, handwriting and other writing skills.
Autumn Term 2021 - Early Years and KS1 Writing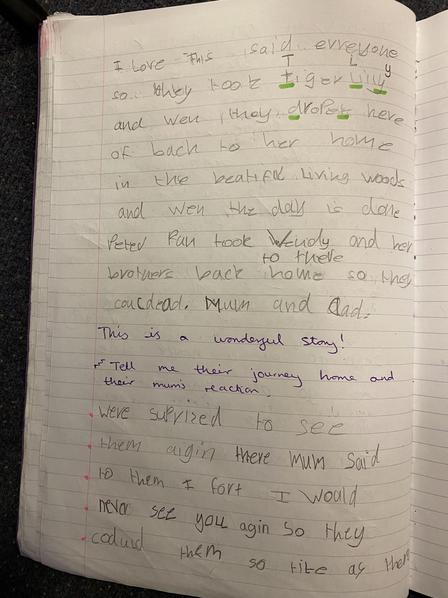 Autumn Term 2021 - Writing in KS2 - Year 3 to Year 6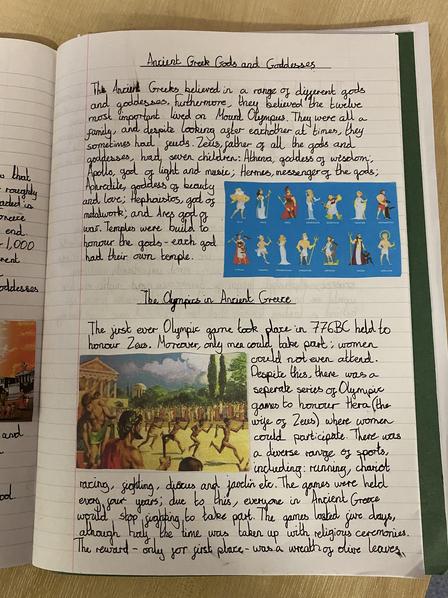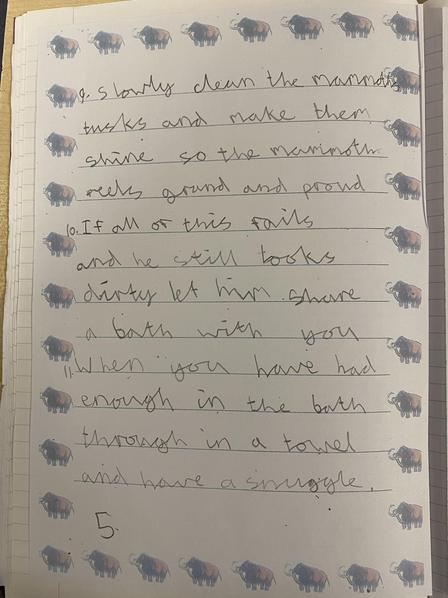 Speaking and Listening
Speaking and listening is a large part of our literacy curriculum, and children also have lots of opportunities to learn skills in this area across the curriculum too. Our literacy learning journeys always include an element of speaking and listening, this might be a drama activity, debate or discussion. Each half term we explicitly teach speaking and listening skills as a unit of work to develop children's skills in debate, role play and presentations.
A large number of our staff are ELKLAN trained and these strategies are used across the curriculum to promote children's speaking and listening skills. A number of interventions are in place across the school too to support children if this is an area of learning that they find more difficult.
Reading
At Leatherhead Trinity we believe reading is the key to unlocking learning across the entire curriculum. Therefore we provide the children with as many opportunities as possible to engage with reading, including daily guided reading sessions, story time at the end of the day, visiting authors, volunteers readers (including Puddles our reading therapy dog), library time, daily reading at home, catch up reading and our own Trinity reading list for each year group.
Guided reading is an integral part of our learning day. Every child from Year 2 upwards focuses on one quality text per term that exposes them to challenging vocabulary; modelled comprehension and reading skills every day, that they might not otherwise be able to access on their own; links with their current topic work providing extra background knowledge to further their reading enjoyment; and at least one literacy learning journey is linked to the text each term, improving the quality of a child's writing.
Research has shown that reading for pleasure at an early age has a major impact on a child's future, both intellectually and socio-economically. At Leatherhead Trinity, we are constantly looking for opportunities to read. Every class has a weekly session in our newly built library and each child is encouraged to borrow a wide variety of books. Every child has a daily reading book to take home and read with parents. All classes are partnered with a "buddy" reading class where children get together, read to each other and discuss books. Every class room has a reading area stocked with carefully selected books that challenge and encourage reading, including displays linked to topics and teacher suggested texts.
Not sure what books to read?